Found soundscapes excavate field recordings inadvertently made in overlooked environments such as recording studios, broadcasts, and live performances.
of silences intemporally sung: Luigi Nono's Fragmente-Stille, an Diotima



Unlike most of my music, this piece is meant to be heard only on compact disc. A limited edition album of this found soundscape was released by reductive music.

Read more about this unusual work:

C-SPAN Presidential Inauguration, January 20, 2009

Download the entire piece free from and/OAR.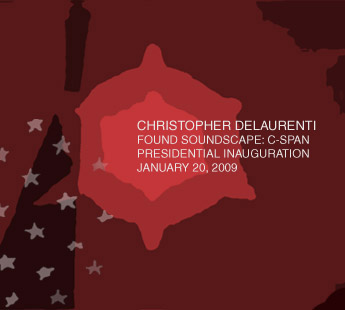 I captured this found soundscape from C-SPAN immediately after the inauguration of Barack Obama as president of the United States of America on January 20, 2009.
Canny (and, alas anonymous) C-SPAN director(s) and camera ops captured shifting crowds, broadcast glitches, and supposedly "off-mike" comments, all of which mingle with the pageantry, power, and telling truncations ("I'm a lefty," says Obama offhandedly) of the event.
Culled with no internal edits or processing, and/OAR released this free mp3 album with the cover (at left) designed by Dale Lloyd in the spring of 2009.
Open Carrier: Citywide One Manhattan

What is an open carrier?