Teaching is essential to my art. I teach what I make: Vintage electronic music; software-based systems composition with AudioMulch and MAX/MSP; classic analog synthesis; installations; performance art; handmade instruments; databending & sonification; live improvisation, music journalism; and of course, my beloved acoustic music.
The classroom not only keeps me connected to the fundamentals undergirding my work, but also generates ideas, questions, and compositions that spur research and exploration.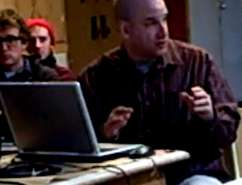 Since 2010, I have served as a Visiting Artist, Lecturer, and Visiting Assistant Professor at over a dozen schools, colleges, and universities, including the School of the Art Institute of Chicago, Cornish College of the Arts, the University of Washington, University of Montana, Western Washington University, NOVA High School, and the College of William & Mary.
I hold a Master of Fine Arts in Music/Sound from Bard College and a Bachelor of Arts from The Evergreen State College.
Classes, modules, and workshops taught (syllabi and course outlines available by request)

Live Sound & Audio Production
Fundamentals of Electronic Music
Sound Design & Synthesis
Video Editing, Effects, and Composition
Introduction to Field Recording, Soundscape Composition, and Phonography
Advanced Topics in Field Recording
Experiments in  Music
Performance Art
Music, Sound Design, and Science Fiction
Music Theory I & II
Sound Design for Multimedia
Writing Loud: Music Journalism
Live Performance with Electronics (circuit-bending, scavenged instruments, synthesizers, software, etc.)
Composition (Beginning, Intermediate, Advanced)
Advanced Digital Audio Techniques (spectral inscription, software-based systems composition, EI, granular synthesis, databending, etc.)
I also present workshops about my work:
Favorite Intermissions and other New Directions in Improvisation
Found Soundscapes: Investigating the Interstitial
[Your city or school] Phonographers Union: Collective Improvisation with Field Recordings
The Moving Microphone: Field Recording as Site-Specific Performance
Fair Use Music: A History of Quoting, Sampling, and other Sonic Appropriation
Build a flap-o-phone (construction and improvising with a cardboard record player)