About what I do: My work, the offspring of my love affair with sound, incorporates murky atmospheres, everyday speech,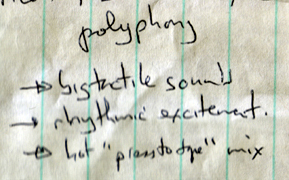 and unusual field recordings.
I bear witness to current crises which impel me to respond. I also heed my impulse to conjure sonic places where raw emotion, memory, and imagination find refuge to dream. More:

formal bio & CV
Contact me for a CV (request a 6 page short version or the complete 18 page document) as well as for high-resolution photos for press and publicity. A prose version of my CV:

interviews
My most recent interview appeared Fall 2015 on Earlid, a crucial hub for adventurous works for radio. Another interview (2013) was for one of my go-to blogs Ear Room. In 2010, I did a short Q&A in 2010 for one of my favorite shows, Some Assembly Required, a podcast devoted to recycled sound, plunderphonics, and sampling. Another interview – collaged with many fellow sound artists – wends and weaves through the long-awaited Sound Generation, an ebook published by Autonomedia.
Jimmy Bennington, a remarkable drummer and composer, conducted a thorough interview for Northwest Jazz Profile in 2007.
Although the text of my conversation with Kalvos and Damian appeared in a 2010 issue of eContact!, it's actually a transcription of a 2001 interview. We talked about then-recent pieces such as cocaine and Three Camels for Orchestra.
In 1999, I answered a few questions for an absolutely inspiring issue of monk mink pink punk, which featured artist interviews and writing about Ana-Maria Avram, Eric Cordier, Iancu Dumitrescu, Francisco López, Giancarlo Toniutti, and others. My first interview spanned two issues of Dead Angel in the mid-1990s.
photo credits
I am grateful to the following fabulous photographers for these header images:


by Ian Vollmer

by Jim Evans

 by Rachel Scott 

by Mark Malijan


  by Mike Nail
by Alex Woodward


by Alex Keller

by Doug Haire


by unknown

by Jeremy LeClair

by Josh Keller


by Toby Paddock

by John Mischo 

by Tom Kipp
Additional photos and graphics by Christopher DeLaurenti, who built this site with WordPress and Weaver Plus.