Scores dream sound with symbols and words. From text-sound pieces and instrumental solos to chamber and orchestral works, I notate scores to smash my ever-ossifying habits as a listener, performer, and composer.
"I am the Messiah!"
for one performer
Dedicated to John Cage, "I am the Messiah!" (2001) is a pocket monodrama which may be performed live or recorded for playback over loudspeakers. The duration is limited to 4'33" not only as a tribute to Cage's landmark piece, but to preserve your body and voice. I've recorded it several times, once in my kitchen for the as yet unissued Vox Deii compilation and also deep inside the Fort Worden Cistern (now officially the Dan Harpole Cistern), which features perhaps the world's longest natural reverberation times (50 or more seconds depending on the initial sound). Illustration by Mike O'Connor.
Full score: pdf



Petrushka-Schatten ("Petruskha Shadows")
for chamber ensemble
While compiling my album Favorite Intermissions, I wondered how to translate the autonomous improvisation of an orchestra intermission to a score. Rather than eke out a literal transcription of one of my recorded intermissions, I fashioned a conceptual transcription of Before Petrushka designed to not only guide musicians playing acoustic instruments into the same sonic territory but foster a similar freedom that musicians experience warming up during intermission. Petrushka-Schatten (2009) was commissioned and premiered by Bill Dietz and Ensemble Zwischetöne.
Part for piano or other agile keyboard instrument: pdf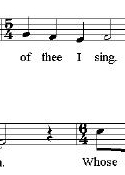 Anthem
for bass-baritone or high lyric tenor solo
Anthem (2003) intermingles and transposes various lyrics and melodic fragments fromseveral patriotic songs:"The Star Spangled Banner," "My Country 'Tis of Thee," "Battle Hymn of the Republic," "America the Beautiful," and "The Marines Hymn." The capstone of an unpublished song cycle for solo voice, Anthem remains unperformed, though I did spend a week wrecking my bass-baritone voice trying (and failing) to hit the upper Ds and Fs; I transposed it down only to realize that I have devolved into a poor singer! Listen to the resulting piece, attempting "Anthem."
Full score (version for tenor): pdf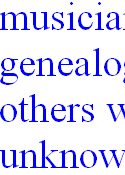 100 Icons
for solo or possibly multiple voices
Along with indicating areas of interest, bias, expertise, adoration, and ignorance, 100 Icons (2006, revised 2008) offers a way for musicians to perform a musical autobiography, at once outlining, seeking, and improvising a musical genealogy or at least conveying the fecundity of music history. 100 Icons is a close cousin carrying a debt to contemporary poets who employ inventories in their work, notably Kenneth Goldsmith and Robert Fitterman as well as John Barton Wolgamot, and of course, the inclusion of evocative catalogues from the assorted lists (genealogies, laws, inventories, Temple dimensions, etc.) that permeate the Bible to various chapters harbored in Moby Dick ("Cetology," "the Grand Armada," "Measurement of the Whale's Skeleton"). I hope the allusions and associations as well as the contrast of known and unknown names in 100 Icons will percolate in the ears of listeners and performers.
Full score: pdf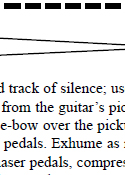 grey angel
for electric guitar and prerecorded sound
Commissioned and premiered by Michael Nicolella, grey angel (2002) demands, unusually, timbral virtuosity. Unlike the million-notes-a-minute guitar compositions common today, this piece requires the guitarist to make long, sustained notes and their (possibly changing) timbres meaningful over time. The score also invites the performer to attempt direct, hands-on improvisation with their pedals. grey angel requires the precise, glitch-free start/pause function of a CD player or laptop, thus the term "prerecorded sound" which is my solution to the obsolete titling of "for [insert instrument] and tape" pieces.
Full score: pdf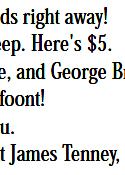 By Reading This You Are Performing This Score
So Give Me 50 Cents
for any number of performers and a functioning postal system
Perhaps my lone musical innovation: the mail-order score. Readers, by filling out a coupon and mailing me 50 cents, perform the piece. No doubt inspired by James Tenney's Postcard Pieces as anthologized in Roger Johnson's seminal book Scores, By Reading… (1999) was originally published in The Tentacle's October 1999 issue and reappeared in the Fall 2004 issue of Musicworks in their "Visions of Sound" section. It has also been covertly distributed at orchestra concerts (even to one maestro's dressing room) and rock shows.
Full score: pdf
More scores lurk in my archive including Freedom Piece no. 1, The Last Compact Disc for orchestra, "To survive as an artist in America…," and 4 Fidels (an investigative performance piece) along with solo and chamber pieces for piano, clarinet, and string quartet.